MAI held an Aerospace Hackathon on processing satellite data
The V International Week of Aerospace Technology "Aerospace Science Week" at Moscow Aviation Institute(National Research University) ended with "Aerospace Hackathon 2018" for engineering students of MAI and other universities. The event was organized by the IT-center of MAI with the support of the geolocation platform HERE Technologies.
More than 50 students of MAI, Lomonosov Moscow State University, Moscow Polytechnic University, Bauman Moscow State Technical University (BMSTU), Moscow State Technical University of Civil Aviation came to fight for victory on the Hackathon. International students of MAI also traditionally became active participants in the Hackathon.
The organizers offered the participants to solve six cases: detection of a transport ship on satellite images with clouds or smoke; green services: help nature to survive; asteroid hunter; parking in the metropolis; aircraft detection on fragments of satellite images; and what kind of astronaut are you?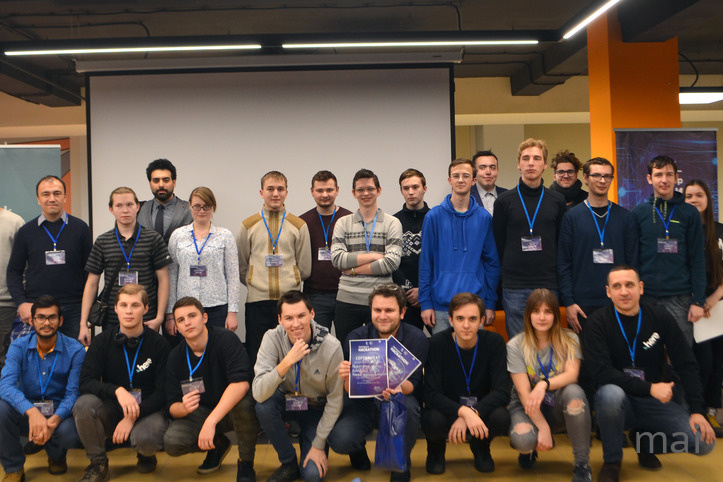 During two days of work, expert support was provided to the participants by specialists from high-tech companies: HERE, SPUTNIX, PHYGITALISM, Dauria Aerospace, CleverBots and ECM Eco Monitoring. The experts answered the questions and gave the most useful information for solving cases.
At the end of the Hackathon, the participants submitted to the competent jury their draft proposals on selected topics. An absolute leader was the "Chinese Pilot" team, which was represented by a student of BMSTU and freshmen of Moscow Polytechnic University (Anton Nedogarok, Kirill Semennikov, Arseny Kocharov, Alexandra Smetanina, Artem Kufaev). It should be noted that the "Chinese Pilot" team had already been the winner of the Hackathon, which was held by MAI, and then the team also included students and staff of MAI.
The second place was taken by a team from Lomonosov Moscow State University – "Cosmos.MSU" (Alexander Zakora, Ilya Saygin, Ivan Vorushilov) with a case "marine shipping routes". The students prepared a worthy project, which the jury could not fail to appreciate.
The bronze medalist became the "Space Psychology" team of Moscow Aviation Institute (Ilya Kasatkin, Ruslan Pervov, Ivan Kostrulev, Sergey Bokoch, Artemy Karpov), who demonstrated their skills in solving the case "What kind of astronaut are you?".
A special award for the best presentation of the project was awarded by a jury to a international student from the "CosmoX" team - Mina Takla. Fantastic work, beautiful design and the presentation of the project did not leave indifferent experts and viewers of the Hackathon.
All participants were awarded with memorable prizes and gifts from partners.
Or you can contact us by
+7 (925) 579-7589
phone number using Telegram or WhatsApp application service