MAI held a remote Meet & Greet Event for a number of CIS countries
On November 16, 2018, for the first time in the history of MAI a remote university Meet & Greet event for 200 prospective students from Uzbekistan, Kazakhstan and Belarus were held at the Resource Center for Research and Innovation Technologies of MAI.

For the connection with four cities - Astana, Almaty, Tashkent, Mogilev – latest web technologies were used. On the big screen, representatives of MAI observed all four locations, and prospective students of each region saw and heard the university side. The International Department of MAI and its partners announced in advance the holding of the remote Meet & Greet Event in the regions and many interested applicants visited the event to find out first-hand information about the Russian aerospace university.
Head of MAI International department Olga Pogosian and Executive Secretary of the Admissions Committee Alexander Getmanov greeted prospective students and gave the floor to Heads and representatives of the faculties and institutes of MAI. They presented their educational programs, research possibilities of each institution and told about career opportunities.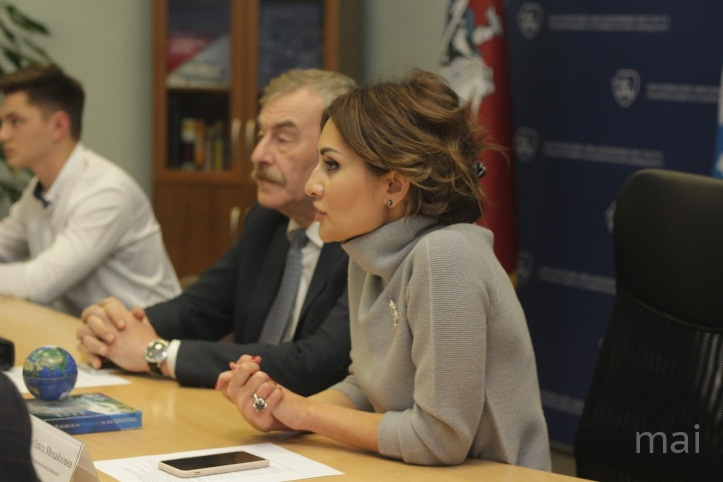 From the side of prospective students, a large number of questions were received, which were related mainly to the conditions of admission, further employment after the training and well-known graduates. For example, the Dean of the Institute №6 "Aerospace" Olga Tushavina was asked if there were women astronauts among the graduates of MAI. She replied that two women-astronauts graduated from MAI, Svetlana Savitskaya and Elena Serova.
"We pay great attention to the full and correct communication of prospective students with representatives of MAI on the eve of their admissions because we believe that the maximum possible amount of information will provide a seriousness of the decision about future education. To this day, we held remote Meet & Greet Events among a number of CIS countries. I think that we will continue to hold such events and I hope they will become typical for university life", - said Head of MAI International Department Olga Pogosian.
Recall that according to the law No. 99-FZ of the Russian Federation "On the state policy of the Russian Federation in relation to compatriots abroad", children whose parents were citizens of the former Soviet Union may apply for budget education in Russia, and the citizens of Belarus, Kazakhstan, Kyrgyzstan and Tajikistan based on agreement between these countries can claim budget education without proof of compatriot status.
| | |
| --- | --- |
| | Daria Vinogradova (PR-department) |
Or you can contact us by
+7 (925) 579-7589
phone number using Telegram or WhatsApp application service