MAI extends its participation in Russian-Chinese cooperation
Moscow Aviation Institute (National Research University) has enhanced its involvement in the programs of interregional cooperation and exchange between Russia and China. On April 20-22, 2018, in the eastern Chinese seaside city of Qingdao, the MAI representatives held negotiations, signed a cooperation agreement, and took part in the grand opening of the Russian-Chinese innovations Park of Interregional Cooperation.
Vice-Rector for strategic development, Alexander Shemyakov, and Head of International Department, Olga Pogosian, carried out negotiations with the representatives of Qingdao University of Science and Technology. MAI and QUST signed an agreement on the development and implementation of joint educational programs. The agreement includes joint training of undergraduate and graduate students, as well as programs of additional vocational training. Cooperation under this agreement will be implemented with the participation of the Administrative Committee of the International Economic Cooperation Zone of the city of Qingdao, and the Beijing management company, China Easy Best Group Limited, that the delegation also held negotiations with. The points of agreement with the company that purchases and operates Russian-made helicopters was the implementation of projects on vehicle service, as well as additional vocational training programs which will be developed in MAI specifically for the company experts.
​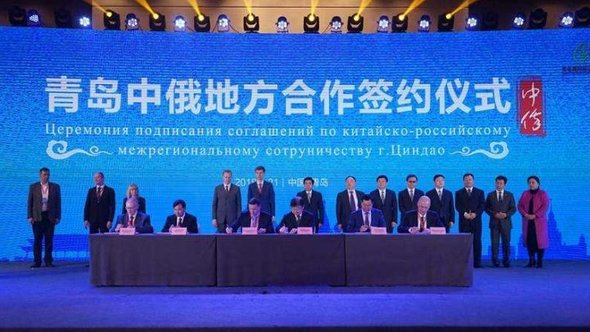 The MAI delegation also took part in the opening ceremony of the Russian-Chinese Innovations Cluster of Interregional Cooperation. Head of Human Resources, Legal and Documentary Directorate, Head of Ecology, Life Support Systems and Life Safety Department, PhD, Andrey Sorokin gave a welcome speech at the opening of the technological cluster, in the work of which the MAI scientific potential will be applied. The new tech cluster is designed to help Chinese enterprises open their business in Russia, and to stimulate mutual investment cooperation between the two countries.
In accordance with the agreement reached between President of the Russian Federation , V. Putin, and President of the People's Republic, Xi Jinping, the years 2018 and 2019 have been declared the years of interregional cooperation and exchange between Russia and China. The Russian-Chinese interregional cooperation cluster in Qingdao became the first one within this cooperation. In turn, Moscow will start building its interregional cooperation cluster twinned with the one in Qingdao.
Or you can contact us by
+7 (925) 579-7589
phone number using Telegram or WhatsApp application service