MAI students took bronze at the Malaysian Games
From 23 to 25 March Volgograd State Medical University held the XIV Malaysian Sports Games, which were attended by 57 students of Moscow Aviation Institute. As a result of the Championship, MAI students from Malaysia took gold in chess competitions, and also won two silver and five bronze medals, thus taking third place in the overall standings.
Malaysian bachelors of MAI institutes No. 1, 2, 3, 4 and 6 participated in the competitions. Moreover, students study both in Russian and in English from 1st to 4th years.
In total, more than three hundred Malaysian students enrolled in the universities of Kursk, Nizhny Novgorod, Moscow, St. Petersburg and Volgograd took part in the competitions that ended last Sunday in Volgograd. Students tested their skills in nine sports: volleyball, basketball, handball, chess, table tennis, netball, futsal, frisbee and tacro.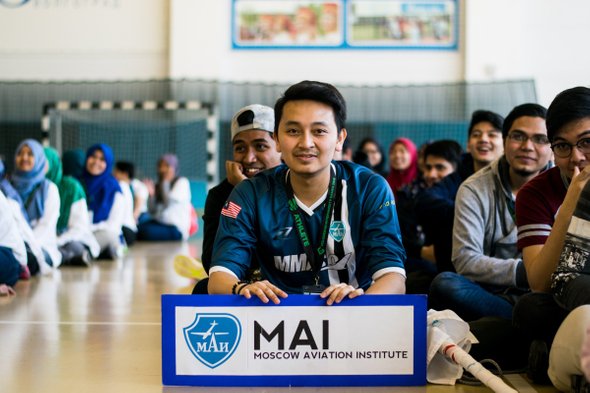 In the frisbee tournament among young men, students of Moscow Aviation Institute took silver. MAI sportsmen showed the same result in table tennis tournament. They took bronze medal in mini-football among boys, men's basketball, volleyball and women and men handball.
The audience especially remembered the competition of MAI students in men's volleyball, and frisbee. In these two categories unlished a serious struggle, in which the emotions spilled over, the atmosphere was red-hot to the limit, and MAI support team stunned the opponent.
The tradition of the Malaysian Sports Games has a long history. The first time they were held in April 2004, and for the fourth time the hero-city Volgograd hosted the competitions.
The Malaysian Sports Games are attended by students from Malaysia who came to conquer Russian universities. There are only six such universities in Russia, including MAI. Traditionally, MAI does not miss Malaysian Sports Games and the University students show high results at these competitions.
Photo: MediaStudio "Allegro" VolSMU
Or you can contact us by
+7 (925) 579-7589
phone number using Telegram or WhatsApp application service