Сlimber Alexey Rubtsov speaking about the Olympics in Tokyo, his favorite training places and studying at MAI
At the Tokyo Olympics, the climbers will compete for two sets of medals. For the first time in history, their kind of sports was included in the program of the Summer Games. On August 3, the qualification for men will take place, and in a day – for women. The medals will be awarded at the end of the finals. The final competition among the men will take place on August 5, the final among the women – on August 6.

Russia will be represented by Alexey Rubtsov, Victoria Meshkova and Yulia Kaplina in Tokyo at the Olympics this year. Alexey Rubtsov won the title of World Champion in 2009 in one of the subspecies of climbing – the bouldering – and conquered gold in European Championship in multidiscipline competition last year. It is the multidiscipline competition that will take place at the Olympics now. In his interview to "Izvestia" newspaper, the 33-year-old climber spoke about the acclimatization process in Tokyo, his work with sponsors, training at Moscow Aviation Institute and his favorite rocks.
"At this age, you need to end up with sports, not take it"
Did you get acclimated in Tokyo quickly?
I arrived in the evening, slept for 10 hours on the first night. But I didn't sleep during the flight, so 10 hours in two days is not very much. In the evening it gets worse, but I do not go to bed anyway, trying to cope with the jetlag. The second and third nights are usually the most difficult after the flight like that. In any case, six days between the arrival and the start of the competition are enough to get acclimated.
Why do other climbers fly five days later than you did?
They fly on the night of August 1. They start one day later: my competition is on August 3, their is on August 4. I insisted that I needed more days to acclimatize. From my point of view, it is difficult to arrive two days before the start, but the girls, after consulting with the coaching staff, decided to do so.
Did you have the opportunity to dispute and arrive earlier?
We all had choice from the very start. Every athlete could discuss that issue with his personal trainer. Two of our girls decided to accept it the way it was, they took the decision basing on their own experience, because that is not the first competition they will be taking part in in Asia already. If they want to start two days after arrival, they have the right to do so. They asked me how I would like to fly. I replied that as early as possible, and chose the date - July 26, since the first day of arrival to the Olympic Village was July 27.
And did not the Russian Climbing Federation say that the extra five days would be expensive for them?
It seems to me that this issue was not that acute. The girls decided to fly later because they and their coaches believed that this would bring better results. I believe that seven days before the start are better than two days. And the girls could have come with me in advance, if they wanted to. I myself once flew such a long distance the day before the competition and performed normally. But for two it is different, it feels different, because the most difficult period of acclimatization is still coming. Although generally speaking, each organism is individual.
How did you get into climbing? Did you expect it to lead you to the Olympics?
I didn't think about the Olympics at all. I began to climb just for fun, when I was at conscious age already - I was 17 years old. At this age, you need to quit sports, not start it. I started climbing when I was enrolled to the institute, I did it to get a mark for the exam. And somehow it happened so, that it began to work out. In the first few years, I did not perceive it as a sport – just as an active hobby. I climbed for pleasure. And even after winning the world championship, I did not plan to become a professional athlete. I just finished my fourth year at Moscow Aviation Institute as an IT specialist (I studied at the Department of Information Technologies of the Faculty of Management Systems, Informatics and Power Engineering). I thought I would complete the fifth year and go to work. But after the graduation, I thought it would be easier and more interesting to do sports. And that is how it all resulted into my sports career.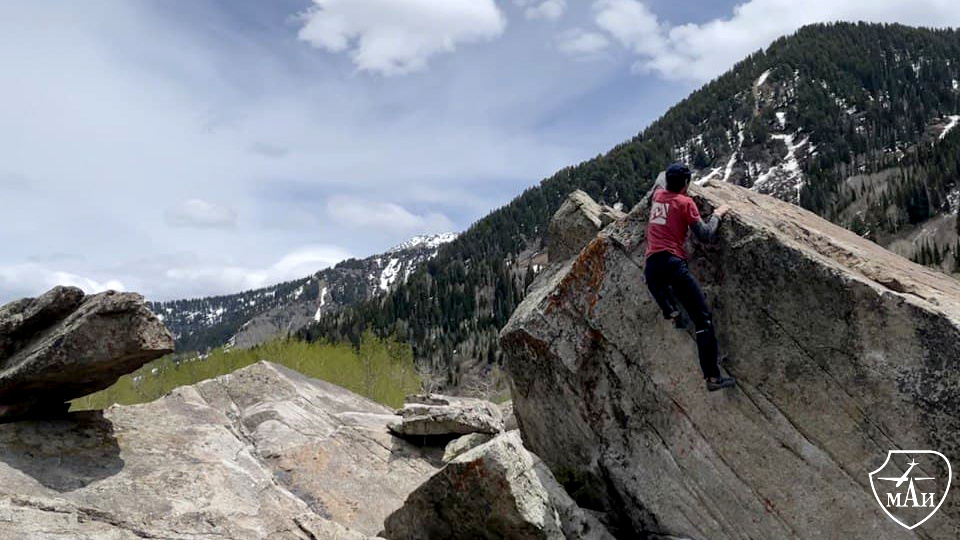 Climbing became the Olympic sport after all. And I decided that I should participate. Although I initially graduated from high school with a medal and wanted to be a programmer. I entered several institutes. Including MIPT, but decided that it would be difficult there, therefore I chose MAI. And in MIPT, by the way, there was no climbing section – so I could not have gone into this sport.
Did you preserve the skills you got at Moscow Aviation Institute?
Skillful use of a PC. But this is not a very rare skill. Simply the mindset itself was preserved. A technical institute sets a certain way of thinking, the ability to systematize experience and structurize life. The experience of Moscow Aviation Institute and, in general, a complex technical university is useful. And it helps me in sports. I am already a very adult athlete. And I still live in sports. I will be 33 next week, on the day of the final at the Olympics. And I'm still in business. So the quality of education speeds you up. I would recommend all the athletes to study at such an institute. Another thing is that this is impossible for a professional with his training and competitive schedule. I think I have an advantage over athletes with no education or sports education. The advantage is at least in structuring your training process and the ability to keep your chosen life philosophy.
What do you mean by the "chosen life philosophy"?
The steadfastness of your intention. The ability to seek and find the right solutions. It's a young and developing sport, and there are many gaps in the methodology. The system of direct training "athlete-coach" is poor. We receive training programs, and there is not always someone at training. Without the right education and the understanding of life, one can get lost. Therefore, one need either a good coach or a good education. In the second case, a person will be able to see the training process more clear for himself.
Will you be alone at the Olympics?
Yes, I flew to Tokyo alone. I was asked, if I could fly unaccompanied, I told the Federation that I could handle it. But now I realized that it was wrong to do so. Many nuances arise on the spot along the way. The representative of the ROC met me in the village and asked: where are the others, why are they flying only on August 1? I replied that they did not want to fly earlier, and I wished to be in Tokyo on July 27. The issue was settled. But they gave me a very surprised look.
Doesn't it look ok in terms of reputation?
Maybe the team has such respect for me that I can handle it alone. But from a leadership position, I would not let an athlete go to Tokyo on his own. Especially for his first Olympics. I would have thought that it would be better, if one of the coaches or the Federation came in advance, looked at everything, studied it. And only after that let the athletes fly.
Did you have a personal trainer?
Yes, but she died in June of cancer. It happened suddenly. Perhaps Svetlana Chistyakova (that was her name) would go with me to Tokyo. She was very helpful in motivational and organizational matters. Not in training, but mainly in life.
"I am an expert in one and a half disciplines"
How did you manage to win the World Championship in 2009, combining it with studying at Moscow Aviation Institute?
I was not engaged in sports for 100% at that period, I simply used to practice after school. But then it was simply a sport "to play in the yard". More precisely, it was not that at the yard literally, but it was much simpler. Now everything is more professional and more complicated. And then a man came from the street and after three and a half years of practice won the World Cup Gold. And in the first year I climbed only twice a week. It can hardly be called great sport, I was a lamer. And I conclude that this sport was then a "yard type" only because after two and a half years of more or less serious training, a person like me could become the world champion.
The only advantage is that I didn't get nervous. I didn't come to win that world championship. I just wanted to see what it was like. There, Rustam Gelmanov became the second one, he was my training partner, who also studied at Moscow Aviation Institute.
The discipline you won back then in is called bouldering – with short legs of climbing. Last year you won the European Championships in the multidiscipline, which is represented at the Olympics. How do you think, are there any chances for a medal?
The IOC assigned one set of medals to men and one set to women in climbing. And we have three disciplines (bouldering, climbing considered from the point of view of its difficulty and judged from the point of view of speed). Therefore, in order not to offend anyone, we decided to take them all and combine them into one discipline. I am an expert in only one discipline. Although rather in one and a half. I also climb difficult walls quite well.
And how did you win the multidiscipline at the European Championship last year?
I did enough. A discipline and a half was enough. I won my kind. In multidiscipline we simply multiplicate the results. There were eight athletes in the final. I finished the first in bouldering, the fourth in difficulty and the fifth in speed. We multiply all this, we get 20 points. The one who took the second place finished the fourth in speed, third in bouldering and the second in difficulty. Accordingly, he scored 24 points. Third place: 30 points (second in speed, fifth in bouldering and third in difficulty). The main idea is to win your discipline and not screw up the other two too much. I did that at the European Championship.
Is the sport not as it was at the end of the 2000s?
Now it is, of course, a serious sport. In 2024, at Olympics in Paris, two sets of medals will be played for men and women. And in 2028 in Los Angeles, I even don't know – maybe none, maybe three or five. Climbing is very popular and well-developed in America. I think there may be even more sets of awards there than in Paris. There are too many successful athletes there. And the community is huge.
Besides the Americans, who else are your main competitors?
The Japanese are very strong in bouldering. There are three key competitors in the multidiscipline – one Japanese, one Austrian, one Czech.
"If you want money, go to football or hockey"
Does climbing the walls in the hall resemble what we, ordinary people, see in the movies or on TV, when people in nature climb real rocks?
This is all the same. I train on the rocks for several months a year. I try to do it more, but it turns out a maximum of two months a year.
Do you have favorite places?
I really love to climb the rocks in the Swiss Ticino. Climbing and rocks are not that high in the mountains, where there is snow and it is impossible to move on. You need a warm place so that the rock is bare, without snow and dry. Ticino is the south of Switzerland. There are lots of cool neighborhoods out there. I went there for 10 years. Sometimes twice a year. But because of COVID I have not traveled for two years already. I also like to climb in Spain. In Russia I go to one district in Karelia. And I also know that there are some rocks in the Crimea.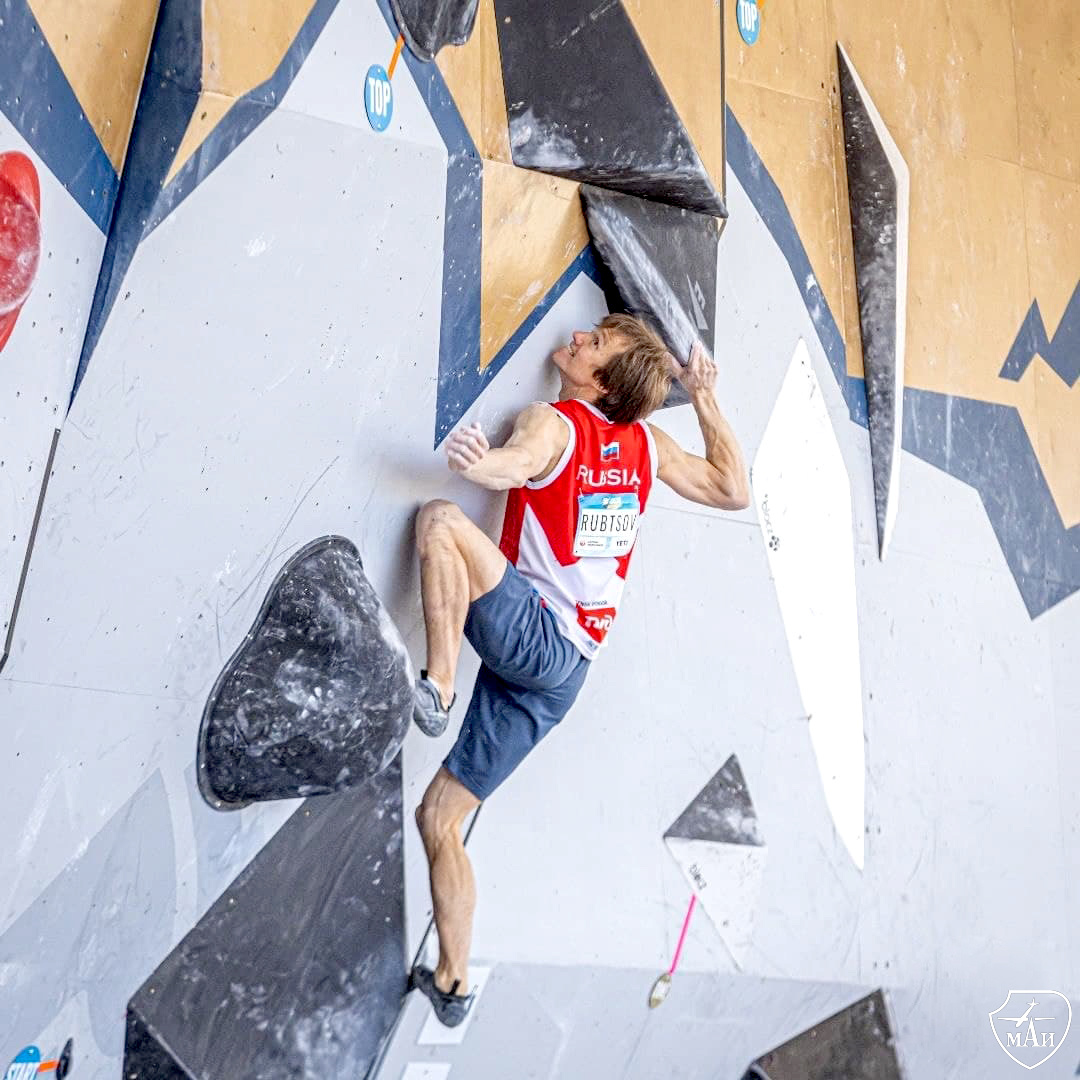 What assets allow you to train and travel to foreign places?
I have two sponsors. One is Swiss company, the other one is American.
How did you found them?
It was very difficult. It is always difficult to find sponsors in Russia. The fact that I got two foreigners is an incredible combination of favorable circumstances. I don't know at all, if there are other Russian climbers with good contracts. They have sponsors, but no salary.
Do they provide only training and flights?
No. These are those that provide them with the equipment. And I work for a salary. Sponsors help me to be a professional athlete, and not just carry on some things and equipment. How is sponsorship organized in the world? Companies pay athletes money to develop a community, continue to exist, do their own thing and personify the brand. How does this system work in most cases in our country? You are given three T-shirts and equipment and asked to advertise the brand. I think this is wrong. I have worked little with different companies, now I have two of them. I was a fairly successful athlete, but I was looking for such sponsors for a long time. I didn't agree to work on bad conditions.
When did your foreign sponsors appear?
One in 2016, the other in 2021. Climbers often agree to the terms of the companies. Equipment is certainly better than nothing, but globally not very good for building the right position on sponsoring sports and athletes in the long term. As long as you agree to work without money, no one will give it.
What do they live on? Money from the national federation and the Sports Training Center of the Ministry of Sports?
Yes, the state and the federation provide support. Without them, there wouldn't be any climbing at all. Now people worldwide are involved in this sport at the highest professional level. And in some countries they have a lot of income. It is impossible to fight such people without doing professional climbing, say, without money and livelihood. Should one go to work and train after work? Only I could do that when I won the World Cup in 2009. Well, then I did the same again, in 2015, when I did not train for two years after an injury, I worked as a trainer at the climbing wall six days a week. Then I got tired of it, returned and won the World Cup. But it doesn't always work that way. Therefore, it is great that our state and federation support climbers. Without this, there would be no results at all.
Can a climber provide for himself?
Yes, the Ministry of Sports provides support, there are also CSKA and Regional Federations. Therefore, everyone is often content with equipment from sponsors. But if you ask for a little more, maybe they will give more. Otherwise, companies will be left without athletes at all, and they will not survive without us either. My income is higher, substantially. I cannot reveal the numbers, but I have confidence in the future. In addition, in the Ministry of Sports, climbers need to prove their right to be on the rate every year with their results. This is additional stress. Having a bad season? You get kicked out of the team. When you have no money, you need to go to work. I was kicked out of the team twice when there were no results. Once after an injury, when the biceps came off, this was in 2019. And they had to provide me no living. And sponsors do not leave you. Without them, I would go to work, since I need to provide for my family. Therefore, athletes need to work for the future and ask sponsors for more. I can understand the Ministry of Sports – they do not have the immense budget for salaries. And if someone does not bring results, they have to be kicked out of the team. And with sponsors you train longer and more calmly.
Do you feel a grudge that footballers and hockey players live more prosperously?
If you want to earn lots of money, you should take football or hockey. As I said, I started climbing not for money, but for my own pleasure. I took it at a conscious age, already having higher technical education and some understanding of the world. And I never climbed for the money. I just like to climb. And sponsors only prolong my career. But even after its completion, I will not stop climbing on weekends. In general, the sports that was added to the Olympic program – rock climbing, skating, surfing – they are mainly for pleasure, and money and awards are already a bonus. Some athletes in a number of countries make good money in these sports, but money is not the main goal.
Or you can contact us by
+7 (925) 579-7589
phone number using Telegram or WhatsApp application service