The success stories of MAI graduates from Brazil
Meet Nadia Del Corto Baradel today!
My name is Nadia Del Corto Baradel, I'm 34 and I was born in São Bernardo do Campo, Brazil. Currently I'm working at Thales Alenia Space Italy as a System Engineer. Specifically I'm working with GEO communications satellites payload analysis. Both my Bachelor's and Master's degrees were at the sixth faculty. I majored, consecutively, in «Space Vehicles and Upper Stages» and «Rocket Technologies and Space Systems».
My love for Russia began when I was still young. Let's say that MAI has allowed me to make two dreams come true: become an engineer and live in Russia. I discovered the institute when I was still in Brazil in an article in the newspaper on Russian universities.
My bachelor's degree scientific supervisor was Firsyuk Sergey Olegovich and for the master's degree Grabin Boris Vasilievich.
Of course, I had a favorite teacher! Well, I need to be honest. I had some of them. Each of them played an important role in my professional life. But the thing that was really important to me is the humanity of these teachers, who never forgot, even for a minute, that besides being a student, I was a girl away from my home, alone in a strange land but with a huge desire to succeed.
I have several memorable moments concerning my student life but there is one in particular. It was one of the first lessons of the first year and I was listening to Vladimir Igorevich Zernov's lecture on «Introduction to aerospace engineering» and at a certain point he started to talk about some Yuri Gagarin. A well-known character but a personality completely unknown to a girl who came from the other side of the world! What a person! What a story! I fell in love! The passion that Zernov transmitted in his words when he spoke about Gagarin was contagious! It was so contagious that at the time, I decided to create a group on the VK social network entitled «Yuri Gagarin» and to this day, after more than 10 years, I'm its administrator. It is fantastic! Let me tell you a secret: when I got married, to take those famous photos of the preparation of the bride, I did not choose the usual dressing gown, but I had a silk cosmonaut suit. In this suit I had some patches and one of them was, exactly, an image of Yuri Gagarin.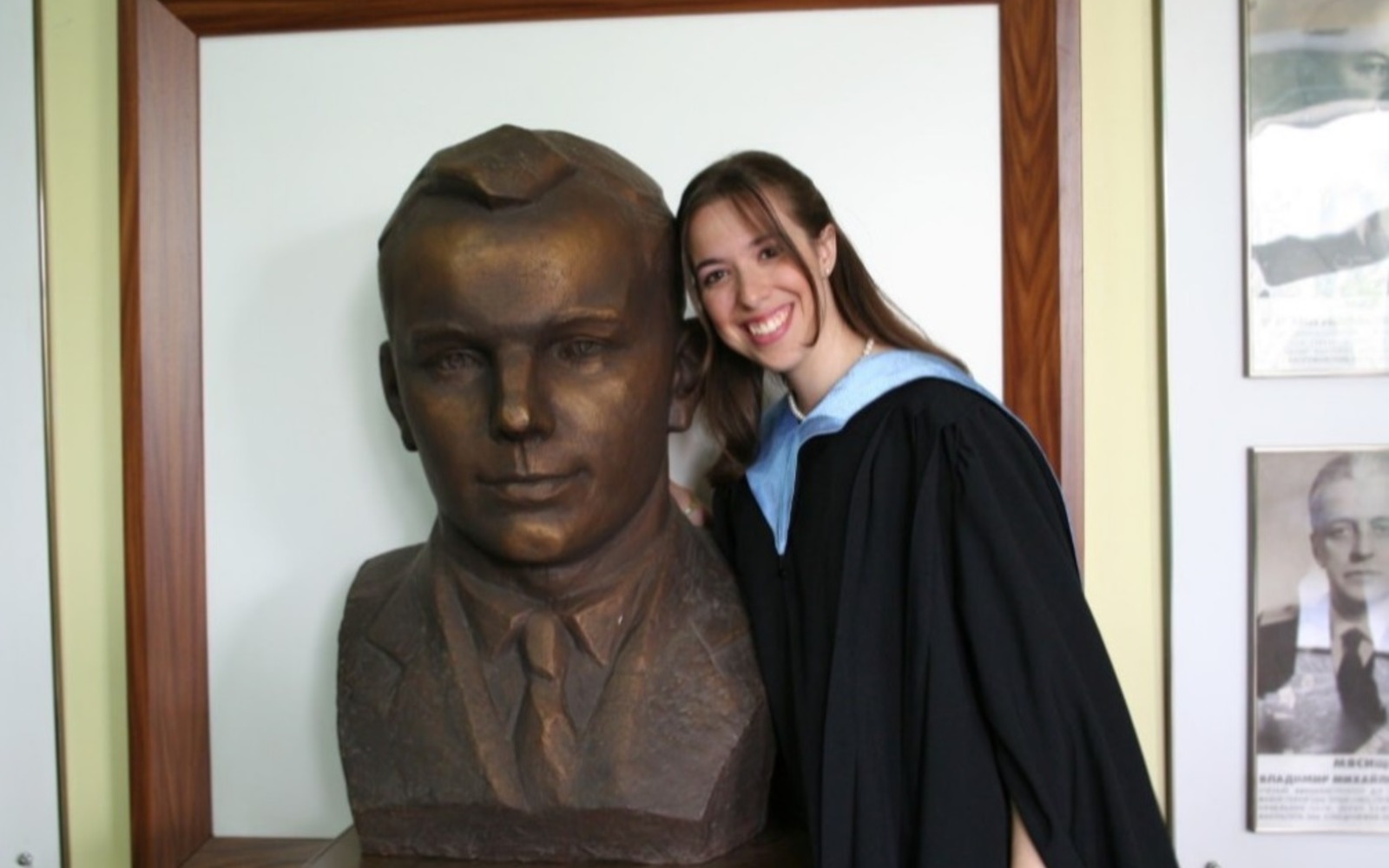 After finishing the master's degree I worked for two years in Lithuania. At the time, they had just applied to become part of ESA and I was able to participate in some interesting projects. I have been traveling around Europe for that period and I also had the opportunity to go to NASA not as a tourist. After that, I took the Italian citizenship, to which I was entitled, and I moved to Rome. As soon as I arrived in Italy, I worked for a short period in a small company that deals with satellite system and parts engineering. Not being able to really enter the Italian job market, I took another master's degree, which, in turn, allowed me to do an internship in Avio, and after to find the job I do until now at Thales Alenia Space Italy.
Today I work as a payload analyst for communications satellites and, to my delight, I am currently involved in a project of two Russian telecom satellites.
Or you can contact us by
+7 (925) 579-7589
phone number using Telegram or WhatsApp application service