MAI-SJTU Student: "Distance Learning Is Very Convenient"
First-year student of the joint master's program of Moscow Aviation Institute and Shanghai Jiao Tong University (SJTU) Alexey Openkin went to study in China in September 2019. The first semester of the first year passed in the normal mode, but then not only the educational process, but the life of the MAI student turned upside down. In China, compulsory quarantine was announced in connection with the spread of coronavirus infection, and the SJTU transferred the training to a remote format. Alex was completely isolated away from home. We learned from him how distance learning is organized at the SJTU, why he did not return to Russia, and how his life changed during the quarantine.
Why did you decide to go to study at the MAI-SJTU double degree program?
When I was undergraduate student at the MAI school No. 2 "Aviation, Rocket Engines and Power Installations", I had the opportunity to go to Peking University under the exchange program. For six months I lived and studied in China, immersed not only in learning, but also in the culture of this country. I really enjoyed my time in China, I liked the training format, and I decided that my next step would be to enter the MAI-SJTU master's degree program. And so it happened, I became a student at the joint program with a "Aircraft Engines" major.
What attracts you to this country and what difficulties of adaptation do you see there?
I am very interested in diving into Chinese culture. However, there are also difficulties. For example, due to differences in thinking, it can be very difficult to find a common language with the locals. In particular, I attribute this to the fact that they are very direct, and they do not accept half measures (that is, no is definitely no, but yes is definitely yes). And, of course, there are still difficult to find the right information on the Internet because of the famous Great Firewall of China, a system for filtering Internet content in China, but you just have to adapt to this.
How did you build your training before and during quarantine?
Before quarantine, everything was arranged in the same way as in any other university. We attended classes, visited university libraries, participated in the SJTU events, and met with friends.
The first semester was completely normal, then we went on vacation, and at the end of January, the World Health Organization declared an emergency due to an outbreak of coronavirus. Our training began at the end of February - remotely, and at once everything was organized almost perfectly. Online lectures were held in ZOOM, and on the Canvas university platform, notes from past lectures and other files were uploaded to master new material, and we also uploaded our homework there. If a question arose for the teacher, there is no problem with this either. All teaching staff is always in touch. You can ask all clarifying questions directly at the online class or later in person.
Has the transition to a remote format somehow affected the quality of training?
No, but I lost a lot socially. Because complete isolation does not make it possible to fully communicate with classmates, only through video communication, but this is not entirely something unusual and strange. It was hard for many to get used to.
How was the control over mastery of the material organized?
For many subjects the control of QR codes was introduced. At the online classes, you need to scan this QR code for entry and exit. In addition, teachers ask questions during the lecture. And you either have to answer verbally by turning on the microphone, or in writing, having previously scanned your QR code.
Also, we sent all decisions on given tasks to Canvas, where the teacher checked them.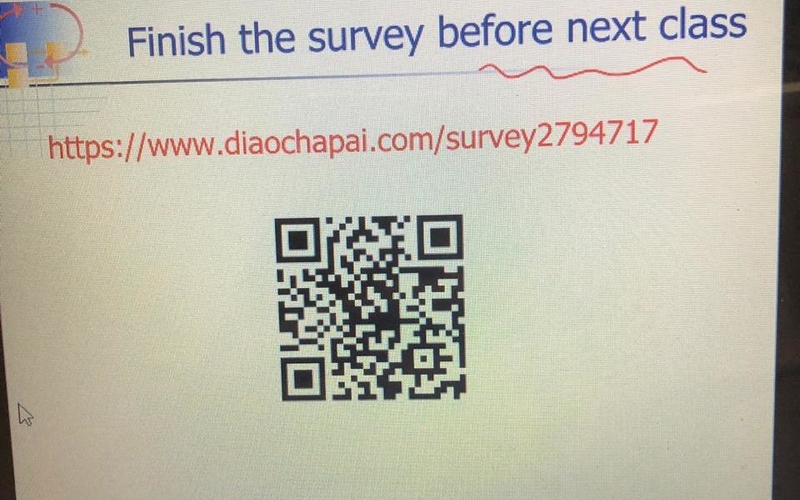 What were your feelings when quarantine was announced everywhere in China? After all, you find yourself in unusual conditions, in a foreign country, far away from home.
Although a week before the start of training we were offered to go home, I refused this. Then I took everything calmly enough, there was no strong desire to return home. I thought: "Why should I leave and take this virus to my country, if I suddenly become infected along the way? I would better stay and continue my studies in China." In addition, it seemed to me that all this would drag on no more than 1-2 months.
What is the situation with quarantine in China now?
We are still learning remotely, but life in China has almost completely returned to normal. At least in Shanghai. Many organizations and shopping centers operate in standard mode. The only thing is that the temperature is measured at the entrance to any room, and we are required to wear masks. But we have to put up with this, although everyone understands that now it is more for reinsurance and general peace. And in many public places, the passage you require to show the application on the phone, where there is all the information about you, and that the person is healthy, quarantined, that he did not go anywhere in the near future.
Your life in quarantine - how was it arranged when you were at home 24/7?
It helped a lot that now is the age of the Internet, and on the Web you can find a lot of things that will brighten up your leisure time. And still sitting at home you open new horizons in yourself. Oddly enough, but it was in quarantine that I began to play sports, began to devote more time to studying the Chinese language and, of course, to study itself.
In addition, students must write scientific articles, and quarantine made it possible to start working on them now.
In terms of food, everything was in order, too. China has very favorable delivery conditions, so this service is very actively used not only in quarantine, but also in ordinary life. I live in a hostel at the branch of SJTU, which is located on the outskirts of the city. During quarantine, all the necessary foodstuffs and other necessary things could be ordered and then picked up from the commandant of our hostel.
Is there any information when you will be transferred to full-time study?
While there is news that the universities will have to open in Shanghai in early May, we therefore assume that around the same time we will be transferred to full-time studies.
What could you advise to the MAI students, who are now on forced self-isolation?
I believe that distance learning is very convenient, because you have a lot of time that you can devote to study. Get out of bed, overcome a few meters, and you are already at the workplace. You can completely immerse yourself in study, because nothing distracts.
In general, the current situation is the best opportunity for everyone to clear their minds of everyday routine, of daily rushing somewhere and, left alone with themselves, to reconsider their priorities, to understand what you really want to get from life and what you want to do.
Or you can contact us by
+7 (925) 579-7589
phone number using Telegram or WhatsApp application service