Stars Are Reached: Graduation Ceremony 2019
On July 4, 2019, at the Main Square of Moscow Aviation Institute the Graduation Ceremony for international students was held.
This year, 214 international students from 33 countries successfully completed their studies - a record number in the 90 years of MAI existence. Among students there were 102 bachelors graduates, 111 master graduates and 1 graduate of specialist's program. All graduates studied in MAI both in Russian and English.
For the first time, a solemn ceremony of awarding diplomas to MAI students took place on the Main Square of our university.To congratulate students came high ranking guests - the representatives of Korean, Chinese, Indian, Vietnamese and Madagascar Embassies.
The Graduation Ceremony was opened by Olga Pogosian, Head of MAI International Department, who addressed the students with a congratulatory speech: "That's a very special moment and what I would like to say is that it might be quite challenging to study aerospace engineering, especially in the foreign language. But it definitely will be valued in the future and actually I believe, if you are motivated, if you have strong aspiration, any problem, any task can be easily manageable. I believe that you're going to be world-class specialists, and that's very important for us to make this way with you. Also we will welcome you in Moscow Aviation Institute as our honor guests in the nearest future. So, I wish you good luck, I wish you bright and successful careers and let's keep in touch. We are very proud of you!"
This year, 54 students received diplomas with honours, which is almost two times more than last year. Diplomas were given to the graduates by the Deans of the Faculty №1 "Aircraft Engineering" Alexander Efremov , Institute №3 "Control Systems, Informatics and Power Engineering" Yury Sledkov, Institute №4 "Radioelectronics, Infocommunications and Information Security" Vladimir Kirdyashkin, Institute №5 "Economics in Engineering and Humanities" Sergey Novikov, Institute №6 "Aerospace Engineering" Olga Tushavina, Faculty №8 "Information Technologies and Applied Mathematics" Sergey Krylov, Institute №9 "General Engineering Training" Lev Rabinskiy, Institute №11 "Materials Science and Materials Technologies" Alexander Bespalov, Institute №12 "Aerospace Science-Based Technologies and Production" Pavel Iosifov, Deputy Deans of the Institute №2 "Propulsion Engineering" Yevgeniy Sotnik and Institute of "Foreign Languages" Irina Anikeeva.
For the first time in the history of MAI, graduated the students of Bachelor's degree program (English medium). On this occasion, Gaurav Dhiman, a bachelor graduate of Aircraft Engineering program from India, gave an inspiring speech: "Four years passed very fast. I learned many new things. It was a unique chance to attend the Moscow Aviation Institute. I would like to thank my scientific supervisor Alexander Efremov, all teaching staff and representatives of International Department for understanding and help. I become an engineer here and I hope in the future my knowledge will be used in aircraft design and cooperation between our countries."
After the awarding diplomas and student speeches, Vice-Rector for Strategy Development Alexander Shemiakov solemnly congratulated the graduates on the successful completion of their studies. Representatives of the embassies joined congratulations.
Already, graduates are planning their further engineering career and study. For example, Tammam Najjar from Syria would like to continue his education at MAI and make a PhD. Graduate of the Institute No. 2 "Propulsion Engineering" Dario Partipilo from Italy, whose final research was dedicated to aviation engines, is going to build his engineering career in Europe. "When I came here, I was just surprised of how many real engines you can find all over the campus. Most of them were also pretty recent. The knowledge I acquired here you can't find anywhere else. Here was the period of life when you have to grow up both personally and professionally," - admitted Dario.
This day, the parents of many graduates came to MAI from far abroad countries to see with their own eyes how their children received diplomas of higher education and became engineers. "I'm very proud of my son. He said Russian language is very difficult. So he grew up with our language and English. He had to study in Russian, of course. He kept telling us: "this is tough, I don't know if I can make it or not". But, you know, he made it," - said mother of Radzwan Syafique Ramle, bachelor graduate of Faculty №1 "Aircraft Engineering" from Malaysia.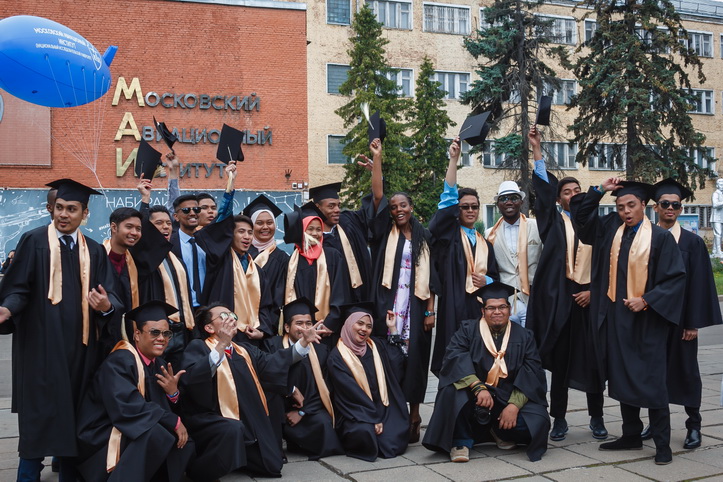 Every year the number of international graduates increases. So last year there were 137. Top 3 countries in the number of graduates of this year are People's Republic of China (64 graduates), Malaysia (26 graduates) and Republic of Kazakhstan (22 graduates).
On the same day as the international students' graduation, Russian students received their diplomas. After the ceremony, happy graduates threw their graduation hats into the sky, thus starting a new stage in their lives.
Or you can contact us by
+7 (925) 579-7589
phone number using Telegram or WhatsApp application service