International Students Started Their Manufacturing Internship
On July 1, 2019, international students of MAI started their summer manufacturing practice at the experimental plant of MAI.
Seventeen second-year students of Bachelor's degree programs in Aircraft Engineering, Spacecraft Engineering, Propulsion Engineering and Control Systems and Computer Science in Engineering will undergo the practical internship during two weeks. Manufacturing practice is mandatory for all students to transition from the second to the third year of study.
For students from Malaysia, Sri Lanka, India, South Africa, Mexico, Italy, Tunisia and Zimbabwe this is the second experience of such practiсe. Last year, they had an internship at the State Machine Building Design Bureau "Vympel" named after I.I. Toropov.
At the MAI plant implementation of experimental work related to the MAI research, development, creation and introduction of new technology is being done. Aircraft and helicopters, parts of aircraft and spacecraft, prototypes of devices, stands, models are manufactured.
The training course is aimed at combining the theory with practical skills. During the internship at the experimental plant of MAI under the care of experienced specialists, students will form the understanding not only of individual processes, but also comprehensive view of the activities of a modern high-tech enterprise.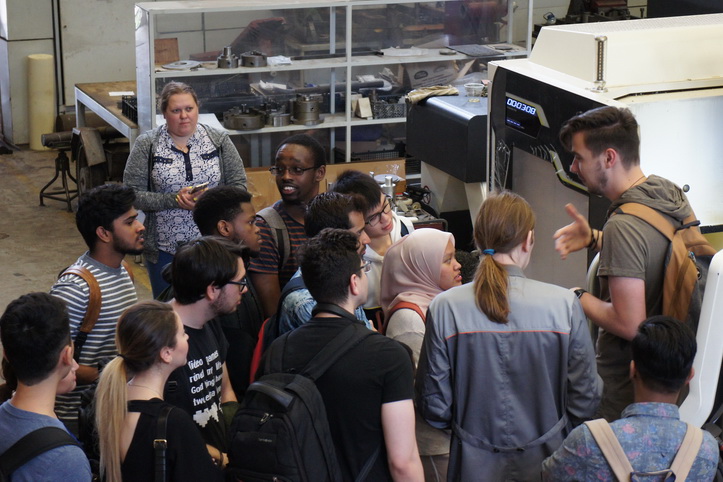 In addition, the practise is focused on global experience in business education. Within the framework of the internship, students will gain knowledge of international academic and practical experience from DMG Mori Company, main partner of MAI plant .
Students will learn the basics of the technological process of machining parts on machine tools with programmed control, methods of performing work on universal metal-cutting equipment, and will make a product on a milling machine.
Upon successful completion of the practice every student will receive a certificate and practise specialization: Mechanical Operation (including on equipment with numerical control). The next group of international students will start their internship in autumn 2019.
Or you can contact us by
+7 (925) 579-7589
phone number using Telegram or WhatsApp application service