MAI Celebrated the Birthday of Alexander Pushkin
On June 7-8, 2019, solemn events dedicated to the 220th anniversary of the birth of Alexander Sergeevich Pushkin were held at the Recreation and Education Center of MAI in the Yaropolets estate.
The event was organized by the Pushkin Society and the workers' union of the Moscow Aviation Institute. The guests and participants of the event were the staff and students of MAI, as well as members of the Pushkin Society of the university.
By the birthday of the Great Poet, with the support of the leadership of MAI workers' union committee, was completed the work on the trilogy "Yaropolets: persons, history, destinies". The third book, "The Estate on Lama," was presented on June 8, in the Pushkin Room of Yaropolets, by the author-compiler, corresponding member of the Russian Academy of Architecture and Construction Sciences (RAACS), Doctor of architecture I.N. Slyunkova and executive editor, member of the Pushkin Society of MAI I.A. Olshanskaya. A lot of kind words were said in memory of the founder of the MAI Pushkin Society, the author of the trilogy L.B.Somovaya.
Estate Yaropolets for many years belonged to the family of Pushkin's wife, Natalia Goncharova. Alexander Pushkin himself repeatedly visited the estate. About the difficult fate of the estate Yaropolets in the XX century told the restorer of the Restoration Center named after K.G. Sinyavin.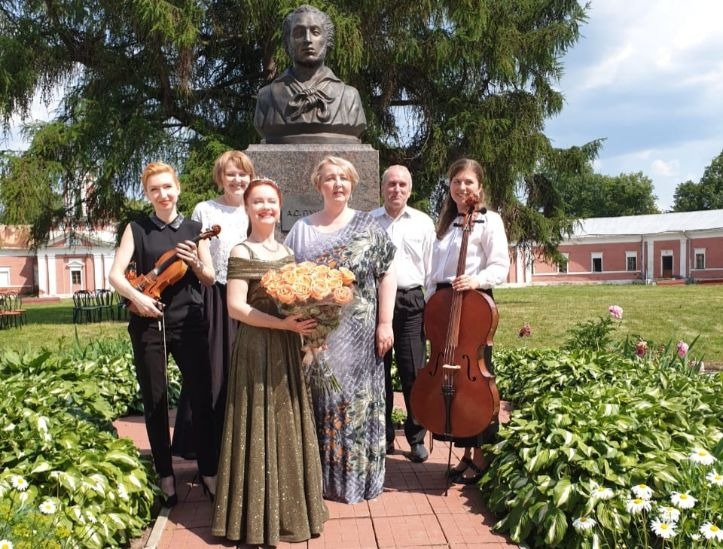 The invitation to the descendants of the Pushkin and Goncharov clans has become a good tradition of Pushkin days in Yaropolets. This year the event was attended by Victoria Leiko -grand granddaughter of Sergey Nikolaevich Goncharov (the elder brother of the Pushkin's wife). To Moscow and English descendants of Alexander Pushkin were dedicated the reports of the honored cultural worker O.M. Kovalchuk and Associate Professor of MAI T.M. Avdyukhova.
A member of the Pushkin Society of MAI, V.V. Ruslanova, Professor, Director of the Center for Geopolitical Analysis N.A. Komleva, Professor of the Academy of Choral Art named after V. Popov V.I. Sorokov, students of the Institute number 3 of MAI V. Shestakov and N. Tsoi were presented scientific reports.
The evenings in the Pushkin room were traditionally accompanied by the performances made by students of the Academy of Choral Art named after V. Popov and the Moscow State Institute of Music named after A. G. Schnittke. They played music by various composers on the lyrics of Alexander Pushkin.
The program of events for the birthday of Alexander Pushkin was decorated with performances of the chamber ensemble conducted by composer E. Graseev and laureate of the international competition M. Pavlova, actresses of the Slovo theater-studio G. Emelyanova and student of the theater "The Ordinary Miracle" of Moscow Polytechnic University.
Pushkin meetings ended with a discussion of reports, plans for the continuation and development of the traditions of the Pushkin Society of MAI and tea party.
| | |
| --- | --- |
| | History Department of MAI |
Or you can contact us by
+7 (925) 579-7589
phone number using Telegram or WhatsApp application service