International Students Successfully Completed an Engineering Session in Alushta
On May 23, 2019, the School-Seminar Alushta-2019 ended at the Educational Center Alushta, where 50 MAI students conducted an Engineering Session.

The international status of the event was obtained due to the citizens of the People's Republic of China, who study at the joint Master's degree program of the Moscow Aviation Institute and Shanghai Jiao Tong University (MAI-SJTU). This fact determined the language of communication - English.
Teams were formed so that in each were students from China.The following task was formulated to international groups for the week: to develop an unmanned aerial vehicle (UAV) project. It includes a business plan, economic and financial indicators, a concept study that allows for the most effective implementation of a project using the capabilities of digital production technologies.
In the strictly defined time frame, each team presented projects to the jury members: Andrey Rypetskiy - Associate Professor of the Department 904 Engineering graphics, Alexander Khvan - curator of the MAI-SJTU Master's degree program, and Veniamin Barykin - engineer of MAI Research Department №9.
"It was very interesting to observe and be a participant in the process in which people, possessing different competencies and perceptions of what was happening, overcome barriers and strive to get a decent result of teamwork", - said Andrey Ripetskiy.
According to the results of theoretical studies and from pre-prepared sets, each team made a flying prototype of the UAV. One of the final events was the launch of prototype aircraft created by the hands of students. Traditionally, there were no losers - all participants could show themselves from the best side. It happened this time too: each team at the awards ceremony was given an individual nomination, defining its strongest sides.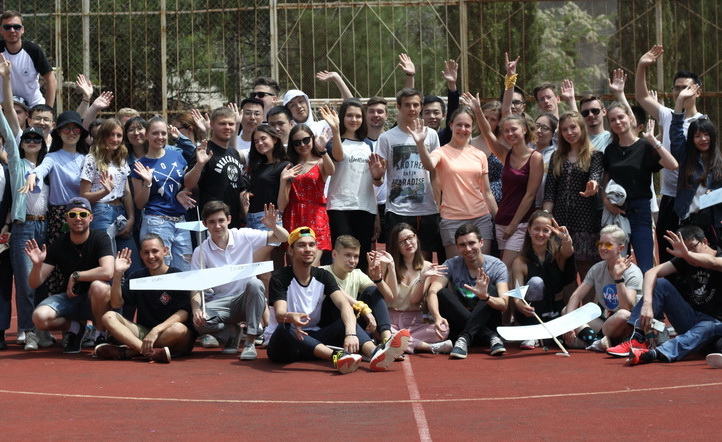 "This journey was very memorable. We participated in many group activities: designed an UAV, made a short film and enjoyed the beauty of the Black Sea. During the trip we met many good friends and have the best memories", - said the Ding Lu, Chinese student of MAI – SJTU Master's degree program.
One of the main goals of Engineering Session was to show students the practical importance of working in international teams, because globalization processes improve design and production technologies. Today all leading projects are a team of the best specialists from around the world. One of such projects is CR929 - a wide-body aircraft being developed by PJSC United Aircraft Corporation and the Chinese commercial company COMAC.
"We consider the experience of joint work in international teams both within the framework of a School-Seminar and the joint educational program MAI-SJTU as a guarantee of productive relations and the effectiveness of interaction between Russia and China in the educational and scientific-technical fields", - said Andrey Ripetskiy.
| | |
| --- | --- |
| | Andrey Ripetskiy, Alexander Khvan |
Or you can contact us by
+7 (925) 579-7589
phone number using Telegram or WhatsApp application service