New Victories of MAI Rugby Teams
On April 21, 2019, the third round of the Moscow Rugby-7 Championship among students took place in Zelenograd.
In the first strongest division, 9 teams of Moscow universities were to meet. According to the previously developed calendar, the teams were divided into 3 groups (according to the rating). Our University was represented by two teams: MAI - 1 (main division) and MAI - 2 (international students).
If for MAI - 1 the games in the group did not cause any difficulties (MAI - MGSU 50:0 and technical victory over the team of Fin. University 30:0), then the team of international students, did their utmost in these games.
In the first game, MAI - 2 lost to one of the strongest student teams in Moscow, the National Research Nuclear University MEPhI (Moscow Engineering Physics Institute) team with a score of 0: 31. In the next game, our "foreigners" defeated the large-sized team of Moscow Institute of Physics and Technology (MIPT) with a score of 24:12, getting revenge for the recent defeat in the Financial University Rugby Cup and taking second place in the group.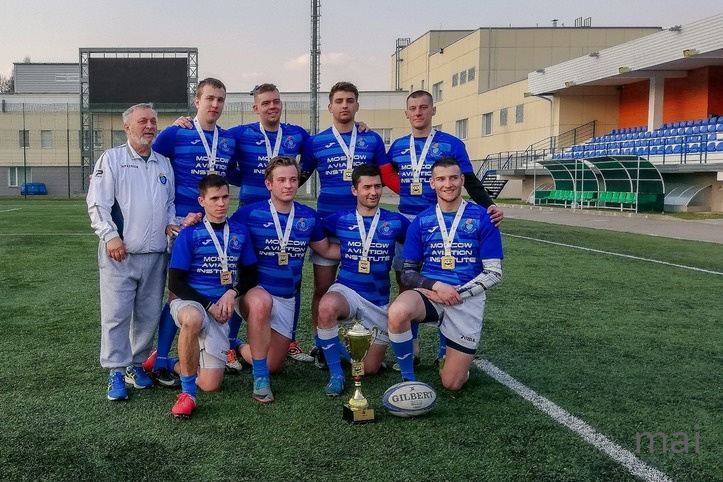 In the fight for 4-6 places, MAI - 2 first beat the team of the Peoples' Friendship University of Russia (RUDN University) with a score of 26:5, and then repeated the same score with the team of Moscow State University of Civil Engineering (MGSU).
MAI- 1 team, playing for 1–3 places, defeated the team of National Research University of Electronic Technology (MIET) with a score 17:5 and MEPhI team with a score 24:7.
In the third round, the teams took the following places:
- 1 place - MAI - 1;
- 2nd place - MIET;
- 3rd place - MEPhI;
- 4th place - MAI - 2.
In the final protocol of the Moscow Rugby-7 Championship among the students of the team, the winners are located:
- 1st place - MAI - 1;
- 2nd place - RUDN University;
- 3rd place - MEPhI.
Congratulations to the players of both MAI teams with success!
Or you can contact us by
+7 (925) 579-7589
phone number using Telegram or WhatsApp application service