Meet & Greet Event: MAI Helps Prospective Students Make the Right Decision
On April 1, 2019, the Meet & Greet Event for prospective foreign students from Pre-University Foundation Programs was held at MAI.
The event was organized by International Department of MAI with the goal to get acquainted international students with educational programs and admissions process of the university.
The interactive form of this event allowed young people from all over the world to learn about Moscow Aviation Institute, be inspired by the communication, gain a powerful boost for obtaining a prestigious education in areas of high technologies.
Olga Pogosian, Head of MAI International Department, delivered the welcome speech, followed by which the students had a short introduction of admission process of the university, entrance requirements and study at MAI.
Afterwards, the Meet and Greet event was marked by acquaintance of the guests from the faculties and institutes of MAI: Denis Prokopenko, representative of Faculty No. 1 «Aircraft Engineering», Sergey Kiktev, representative of faculty No. 2 «Propulsion Engineering", Olga Khomutskaya, representative of faculty No. 3 "Control Systems and Computer Science in Engineering" and Alexander Ermakov, representative of faculty No.6 "Spacecraft Engineering".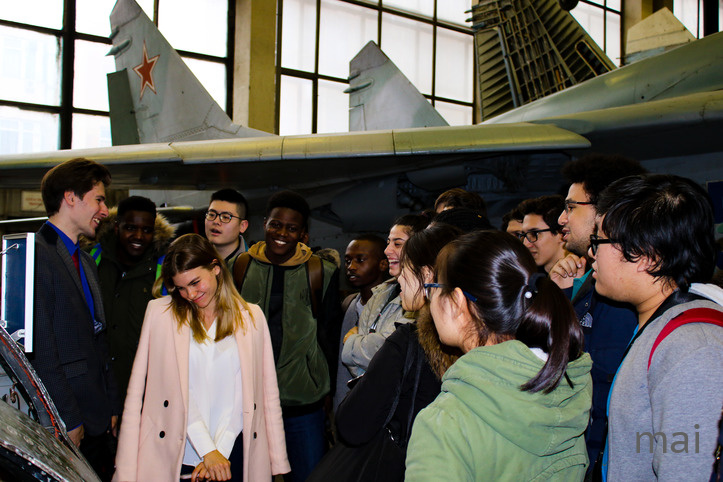 At the end of the presentations, Meet & Greet Event continued with a tour to the faculties and the unique laboratories of the university.
"Over 100 prospective international students are studying at MAI Pre-University Foundation programs both in Russian and English Medium,"– said Alexey Zarechenskiy, Deputy Head of MAI International Department. - "At such events, we want to motivate students to continue their education at MAI, to inform them as much as possible and help make the right decision."
| | |
| --- | --- |
| | International Department; Pr-department |
Or you can contact us by
+7 (925) 579-7589
phone number using Telegram or WhatsApp application service