Royal 5's: rhythm in one breath
The engineer is a creative profession. For future engineers who study at MAI, there are no barriers. Volunteer movement is actively developing at the university. In addition, MAI students are always happy to be seen as participants in various holidays. They are traditionally celebrated at MAI with much eclat. The Day of Knowledge, New Year, Student Day, International Women's Day, Maslenitsa, Cosmonautics Day, Victory Day - all these events are full of bright concert program, which consists entirely of the numbers of talented guys fr om MAI. Native walls help MAI students - they can not only rehearse, but also perform on the stage of the University's Culture Palace, a legendary creative place.
After all, this is the site where many famous rock musicians, iconic Russian and foreign performers gave concerts. At MAI itself formed many teams, whose work cannot be called a simple artistic amateur performance. For example, one of the most famous, not only at MAI, - "Neo Symphonic Orchestra" under the leadership of MAI graduate, conductor and composer Arsen Baderkhan, - literally grew up in the walls of MAI and got a ticket to the successful creativity on the scene of MAI Culture Palace. Professional musicians fr om the "Neo Symphonic Orchestra" are very fond of giving concerts at MAI and they traditionally sell out concert halls .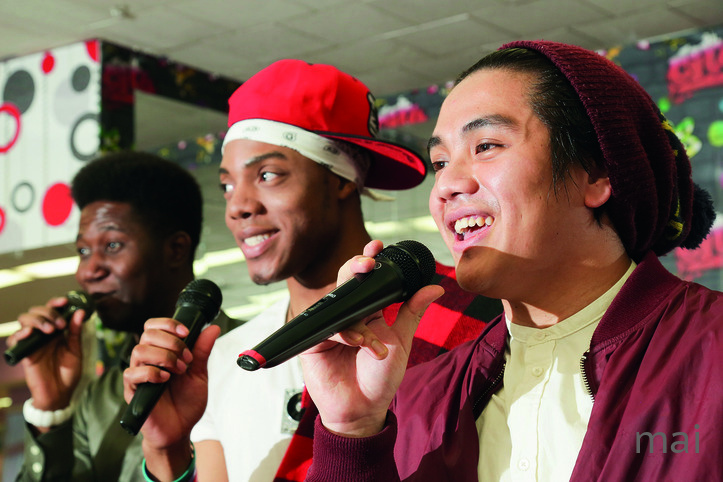 Step to Five
A fertile creative soil at the university generates new talents each year. Therefore, in 2016 a new name appeared on the musical Olympus of MAI - the Royal 5's group. This incredible collective, which sings in a complex musical style "a cappella", can be called international. It consists of students from MAI: Radzwan Siafiq Bin Ramle, Mohamad Fakhri Bin Arif from Malaysia, Kalangula Peter Kalonda from Congo, Arinza Chuks Akhanot from Nigeria and a student of Mendeleev University of Chemical Technology of Russia Jonathan Macasa from Congo. The guys do not have a musical education, but this does not stop them from getting a big hand and winning in the most prestigious musical competitions. What is the secret of success? It is simple: the guys are really in love with music and are ready to surrender to their favorite art without a trace.
They only need to hear the motive, as they immediately pick up the tempo and start singing together. You close your eyes and you are already at the mercy of this incredible magic. The magic of sound. The rhythm and composition of the guys create their own voice. Without tools. And this is even despite the fact that everyone can easily accompany himself. Ikki, as friends from "Aviation Engineering" faculty affectionately called Mohamad Fakhri Bin Arifa plays guitar and cajon, Jonathan Makasa - on piano, other guys also mastered different musical instruments. But it is especially impressive that all the participants of the group are self-taught, without musical education, who have made their way through their own work. "These guys have the perfect hearing," - said Director of the International Student Cultural Center, the vocal teacher Olga Popkova, in an interview with Oblako. – "In addition, their eyes are shining, they are ready to work and sing 24 hours a day. This does not remain without result".
The Royal 5's group was formed on the basis of another successful music project of MAI - Dynamite May. It was a tandem of two classmates from "Aircraft Engineering" faculty of MAI: Mohamad Fakhri Bin Arif, or simply Ikki, and Radzwan Siafiq Bin Ramle, or Radza. Young people excellently made a piece together, not only during study, but also in creative activity. They began to successfully touring and took part in the vocal competition "Winner" on Channel One. At the contest, MAI students won 150,000 rubles. Skillful and gifted vocalists were well known in the International Student Cultural Center of MAI(ISCC MAI) ; they followed their successes and were very proud of them. "We met at one of the parties, dedicated to the New Year, at ISCC MAI . We sang a lot, - recalled the member of The Royal 5's Jonathan Macasa. - Me and Peter acted as solo performers. It was at the moment when we met at one site and sang to each other, suddenly realized that we could sound together in a new way, and this would be a unique project. «Up to the magnificent five there had to be one more participant, the owner of a colorful bass.
Then Peter, John, Radz and Ikki paid attention to their modest colleague - the student of the Institute No. 2 "Aviation, Rocket Engines and Power Installations"of MAI Arinze Chuks Akhanotu. The person, whom the guys among themselves call Oscar, set up equipment for the performance of his colleagues. "Guys told me:" You have a great bass, let's sing with us. "This proposal was impossible to refuse, " - Oscar recalled with a smile. Before joining MAI, he studied sound engineering and did it for a living. Music entered the life of Oscar long before the Royal 5's. So at ISCC of MAI a new collective has "knit together", which began to punch the way to their first hits and fans.
"They found their niche," - said Olga Popkova. –"I, for example, did not meet with such student collectives. Therefore, it was very interesting to make such a project. To see what comes out of this, after all, it is very difficult to sing acapella. This requires a lot of experience and good hearing. And the guys did it".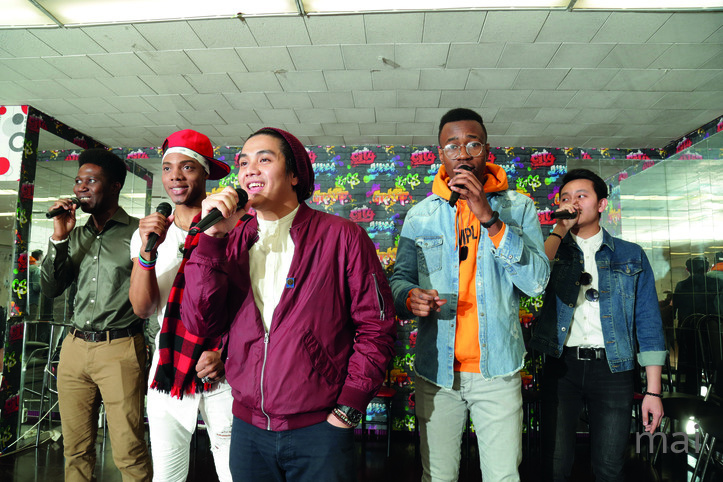 On the Hit

«On the hit the first playground for new boys band was the performance on the stage of the legendary Culture Palace of MAI. The international students came out to sing Leonid Agutin's hit "Ay-yai-yai". "For us it was a real challenge and a very difficult task," - noted Ikki. – "We were very worried. We did not know if we would succeed, if the public would accept us".
New artists were greeted with a cheer. Guys were applauded standing up. The first success literally inspired the Royal 5's. "The scene and the success of the audience - it's nothing to compare to," - said Peter. - When you applaud, when you feel this intoxicating energy of the hall, its delight, then you are filled with an incredible feeling of euphoria and infinite happiness. I want to hug the whole world".
Following was the participation of students in the university festival "Minute of Fame", wh ere they won the second place. To date, behind the shoulders of a musical ensemble there are many performances at various contests and loud victories: the first place at the Moscow student competition "Festos", the leadership in the Moscow festival "Student Spring". By the way, it was the victory at this prestigious creative contest that allowed the boy-band to represent Moscow at the All-Russia festival in Tula.
Despite the fact that the guys have a lot of inspirations and idols, they try to go their own way and invent their own programs and images that are different from others. Of course, as in any creative team, the vocalists are at odds. But they quickly come to a common opinion. "We can loudly quarrel, emotionally discuss some nuances," - Peter shared with a smile. – "But still there comes a moment when we start to sing, rehearse. Then everything falls into place, because we must listen and hear each other. Otherwise, we will not be able to find our own melody, come to an ideal sound and make a number ".
The collective from MAI considered the winning of the Grand prix of the Moscow "Student Spring" in April as a notable dream. Details of the room, which they will surprise the audience of the festival, they keep secret.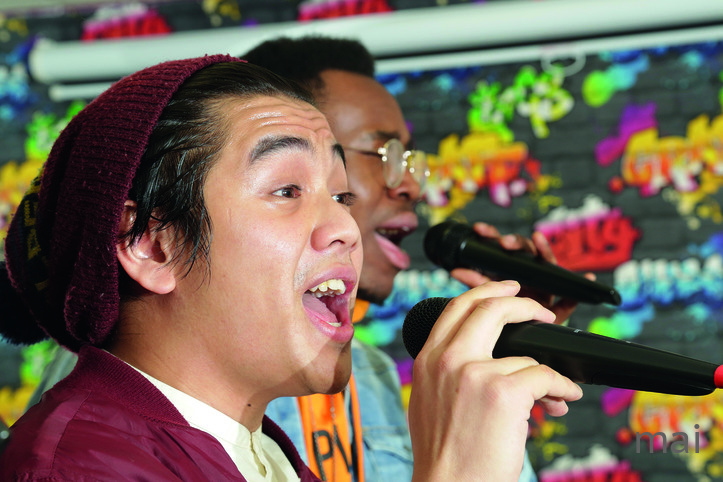 The Art of the Chosen ones

Despite the tight schedule of rehearsals and performances, the guys have time to learn. Each of them consciously chose MAI as an institution of higher education for obtaining an engineering specialty. "I graduated from high school in Malaysia and went to university there, " - Radz said.
"I studied for a few years in the field of aviation engineering. Then I decided to continue my studies in Moscow. I had many options of wh ere to go. Many friends advised me to learn another profession, for example, medicine. But I liked aviation, I wanted to become a good, qualified engineer. There are no better university than MAI in this area. Therefore, I did not suffer with a choice for a long time. I improved my knowledge of physics and mathematics, worked hard for about a year and transferred to MAI. I was taken on the third year". At the Faculty of Aircraft Engineering, he met Ikki, they became friends, and then began to sing together. Their colleague and friend Peter studied on the second year, at the Faculty of Management Systems, Informatics and Power Engineering of MAI. He transferred to MAI from Saratov State University. "I've been doing music since I was nine", - noted Peter, - "I wanted to go to music college, but my parents thought that I should get more practical profession. Then I decided to become a programmer. Of course, it's great to have two vocations at once, which can complement each other". According to the guys, music does not interfere with learning, but quite the contrary. Therefore, they want to combine the profession and the musical art, without which their life is not represented. "We love music. Very strongly", - Oscar admitted with a smile. - Of course, we all want to take place in the engineering profession that we chose. But music ... It's impossible to refuse. It's a holiday that's always with you".
Or you can contact us by
+7 (925) 579-7589
phone number using Telegram or WhatsApp application service