Approximately a year ago, took place the first release of the program "An accelerator of student start-ups", which was held by the IT-center of the MAI and the Internet Initiatives Development Fund.
To their technological competences students have added the entrepreneurial skills necessary today for each engineer who decided to be at the forefront of progress and dreams to embody the most daring ideas.
How the IT-teams that have undergone the accelerator live today told Maxim Eremin and Dmitry Filippov, second-year students of the Faculty of No 8 "Information technology and applied mathematics" of MAI. Each of them managed to form a new startup and participate in the international competition Microsoft Imagine Cup. A suit with medical sensors of "Medical Assistant" is useful not only for patients with serious illnesses, but also for athletes or pilots – they are ready to test it in the dispensary of MAI. The ambitious goal of the Heavy Geeks team is to bring the entire real world into a virtual game in order to get to know it better. How is all this possible? Now we find out.
In touch with a doctor
Maxim Eremin, "Medical Assistant" startup


Maxim Eremin has created a medicine related project – Medical Assistant. The essence of the project is in the implementation of telemedicine capabilities that will simplify people's lives. A person is put on a suit with sensors that collect telemetry data of his body: cardiogram, pulse, amount of oxygen in the blood, temperature.
It is planned to add blood pressure indices to this list, an invasive blood sugar sensor and, for the sports version, a muscle strain sensor. All this data is processed using various mathematical methods and filters and sent to the cloud storage. The constructed predictive model captures deviations and can recognize certain symptoms of diseases.
To create a prototype, team of Maxim Eremin bought compute boards, sensors, made a costume (it fits tightly to the body like a surfing suit) and conducted tests. By themselves they have made the entire cloud infrastructure and two applications for work with system: a mobile application for the patient and desktop-application for the doctor. Through it, the doctor can not only receive all the telemetry and analytics, but also to give the patient recommendations, for example, after sports loads, during which the pulse jumped.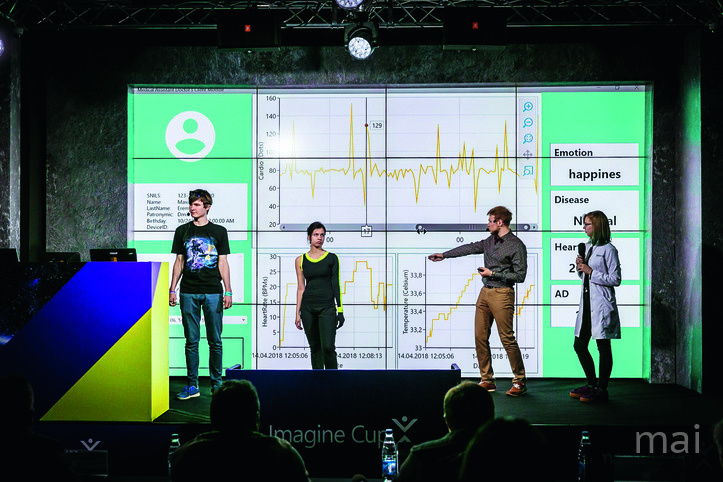 The patient keeps a diary on a mobile device, where he notes what he did today, and the doctor compares this with the sensors and monitors of his health without daily direct contact.
However, it is provided the possibility of visual examination of the patient: in a mobile application was added the function of visual recognition of certain symptoms in the face of human using computer vision. You can take pictures of yourself in the morning and in the evening and send them to the doctor. They will come to him already with conclusions: all is well or some symptoms are visible.
The medical suit is made for mass use and will not be costly— for this, it should be comfortable in it, it should not interfere with life. It can be used by healthy people and, for example, patients in medical clinics whose condition should be monitored continuously. The medical suit can also be used for flight expertise in health centers, where pilots are trained and tested before flying. One of the prototypes was made for athletes. For example, if you wear these suits on football players, the coach during the match will know everything about their health, deciding whom to replace on the field.
It is planned to test the medical suit in the preventative clinic of Moscow Aviation Institute.
All world in a game
Dmitry Filippov, "Heavy Geeks" startup

Dmitry Filippov, a second-year students at the Faculty No8 "Information technology and applied mathematics" of MAI created a startup "Heavy Geeks", where he transfers the map of the entire real world into the game "Parallel 42".
Dmitry and his team want to create a parallel virtual universe based on a map of the entire Earth. Look out the window - this whole world will be inside our game.The basis of the virtual map is the Open Street Maps service, which provides detailed data for the whole of our planet: the location, shape and heights of buildings, roads, trees, lights, traffic lights and other objects. Almost terabytes of this data young inventors transferred to their servers and try to recreate something as similar as possible.
"Parallel 42" will be a sandbox game like "Minecraft" or "No Man's Sky", where you can play with friends. The specific plot has not yet been written, but it should have many interesting activities. In the movie "The First Player to Be Prepared," there was something similar. For players, it will be provided a customization of characters, will be created additional game objects like cars or NPC-bots (Non-Player Character) walking around.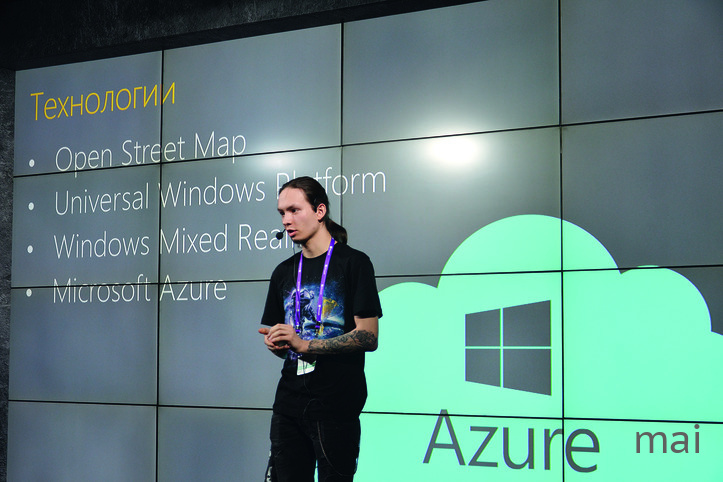 The most common question, which is asked, - "How does the game differ from the panoramas of Google or Yandex?" It's simple: Filippov's team give people freedom in the virtual world. They do not have to move along predetermined paths, they can interact with each other. Of course, all the panoramas everything is more real, without photos. But in game's reality there will be a change of seasons! Young developers also plan to tie the day and night shift to the real time of the day, and even tie the weather to the real one - the one that is now in the region shown on the map.
We tried to create a virtual similarity of our world many times, but manually, simulating each building or object. This, of course, unrealistic work. It was made games based on Open Street Map, but took only its individual pieces and territories. Team of Dmitry sets itself the task of making such a virtual card seamless. In some games there are "stitches": you reach the border of some location, you press, for example, the door - the game goes on to load a new location. It is impossible to keep the entire card in the computer's memory at once. In the new game there won't be such "stitches" due to dynamic communication with servers: some pieces of the map will be loaded and drawn, others will be deleted from memory.
The whole map is now on Microsoft Azure cloud platform. Servers are paid by the team itself, which is expensive, so they are looking for investors, but this is difficult in the gaming industry. Few people today are investing in game development; they can only buy a ready-made game that has potential. Whether our project will succeed is not yet clear, but we will try. Young inventors are actively thinking about how to commercialize the game with the help of advertising embedded in virtual reality.
The closest goal of Dmitry Filippov is to complete the work on the generation of virtual world and work it out in more detail than it is now. Then he will deal with the gameplay, the plot content of the game. It will have two versions: for Windows and Mac, plus VR headsets — virtual reality glasses.
"Do I take a great interest in computer games? To be honest, there is no time. I don't know if it's bad or good to dive into virtual world and live in it. From a practical point of view, it is useless, but from a philosophical point of view it is each his own. For me, this game is just fun. Cool to drive with a friend somewhere to America and mess things up there. And in the aviation industry, for example, we position our game as a solution for airports: any passenger using a VR helmet can get acquainted with the terrain before departure from the airport," - said Dmitry Filippov.
Or you can contact us by
+7 (925) 579-7589
phone number using Telegram or WhatsApp application service