Number One After Igor Akinfeev
Teacher of the Institute №10 "Foreign Languages" of MAI, linguist, musician, sport journalist, engineer, friend of Stanislav Cherchesov, the main coach of the Russian national football team and friend of Yury Semenov, the main coach of FC "Lokomotiv". The list is endless, but all of this is one person – Peruvian, Lorenzo Benjamín Goicochea Morales, or Lorenzo de Chosica. He told the correspondent of "Oblako" magazine about his life path.
Lorenzo, how did you decide to move in USSR?
I was born on July 28, 1958 in Chosica - picturesque valley at the foot of mountain Andes, located near Lima – the capital of Peru. My grandmother Antonia and grandfather Leokadio (parents of my mother) brought me up fr om the age of three, and they have played very important role in my life. In 1961, when the first manned flight into space took place, and that news had spread around the world, grandfather liked to praise Yuri Gagarin. Listening to my grandfather, I also began to dream of outer space, the more especially as the Andean sky is very bright, at night there are lots of stars. I also always admire not only Yuri Gagarin, but also Lev Yashin, and the USSR itself.
Tell us about your interest in football. How it all began?
We lived in front of Chosican football stadium in my childhood, which was like football tutorial for me. My Grandpa and I watched the game every weekend. I studied normally at school. However, my family had material problems and to take my mind off of troubles, my friends and I created football team and called it "Tumix". We trained and then played versus all other football teams of Chosica.
There was a man, Felix Zorrilla, who volunteered to train us. In 1970, after the FIFA World Cup in Mexico, I began to play in the Division II at a large stadium for the local team "Milan", which president was Don Zorrilla. It was an adult league already. Football was in the first place for me at that time; it inspired me and was the goal of my life.
Unfortunately, at the age of 14, being the scorer of the team I had seriously injured and could not play anymore. Therefore, I decided to return to school. Guitar and study began to replace football for me. As a result, I finished school on just excellent marks.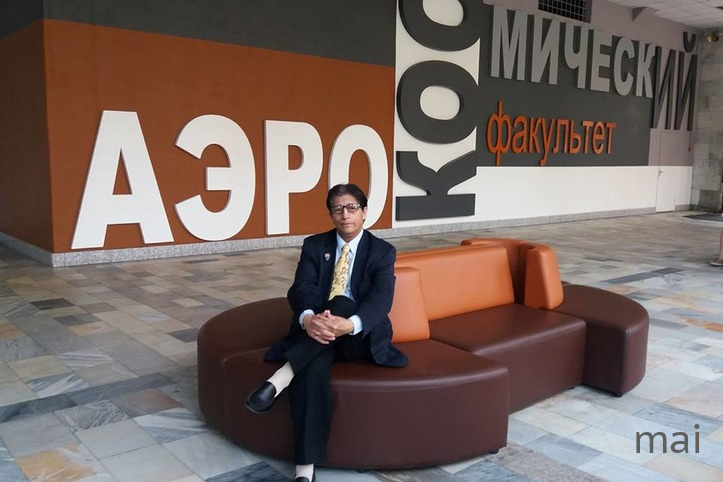 How was your life then?
After the school, I entered the university Nacional del Callao and studied their chemical engineering.
By the time, I began to teach at the preparatory courses of the University: I was teaching prospective students math and chemistry. I liked to argue, to be useful and to see feedback from my students. I thought if I taught I would have more time to dedicate myself to other hobbies. I did so. But to the early dreams of Russia I did not return.
You have admired the USSR since childhood. How did you get there?
By circumstance. After 9-th class, in summer holidays, I went to earnings with my uncle Umberto. There I accidentally heard a conversation about the Association in Lima, which was dealing with exchange programs of students in the USSR.
Therefore, in 1978 when failed to enroll in refresher courses for young teachers, I remembered that episode. I decided to apply to the organization and, taking part in the introductory competition, won a grant for free study in the USSR, at the Peoples' Friendship University of Russia (now – RUDN). The purpose of the organization, which had given a grant, was to provide assistance to the third world countries, to give young people a quality education.
In September 1980, I went to the USSR, wh ere I began my six-year studies at RUDN: I had a contract for a preparatory course and a 5-year study at the specialty program. I am a musician, so not only actively studied, but also performed with solo numbers. By the way, I am still a soloist under the name of Lorenzo de Chosica. My repertoire includes lyrical military songs and Latin American folklore, as well as original songs. For me, it has always been important not only education, but also creative self-improvement.
What did you do after graduation?
I went back to Peru, but five years later I realized that the time that I spent in the USSR was not enough: in terms of self-development and career, as well as intellectually. In 1992 I returned to new Russia and since then I have been living here. At first I worked as a teacher of Spanish at RUDN, and from 2012 to the present day I teach Spanish and English at the Moscow Aviation Institute.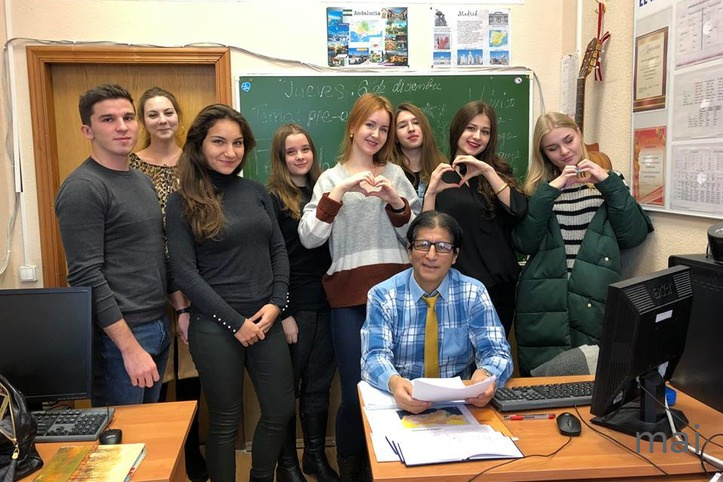 Lorenzo, what are your impressions from working as a teacher at MAI?
I enjoyed being a teacher at MAI, because this university associated with aerospace industry. I have full of understanding with the leadership of our institute and all of colleagues. I feel great here. I like to be useful to the University, I have to notice that most of my students try to take from me the best not only in terms of knowledge, but also in terms of also positive human qualities. I do not separate two concepts – a good teacher and a decent person. My soul is filled with kindness and satisfaction when I teach and see results.
How did sports journalism come into your life?
I always pay close attention to the football, but since 2006, I have been engaged in professional commentary activities. I have long worked with the radio station "Voice of Russia" - first as a musician, and then as a sports journalist. Then I started working as a special correspondent for the radio program OVACIONANDO on the Peruvian sports radio station OVACION. As a sports journalist of the OVACION I undertook great commentary activity: give an overview of the football FIFA World Cup 2018 and Confederations Cup in 2017.
I also participated in these sports events in Russia as a volunteer. The reason for this decision was a great desire to thank Russia for all that this country gave me. Since 2017, I am a correspondent of the Peruvian sports newspaper "Libero". When I started to work as a sports journalist, I met many talented athletes. I have good relationship with many masters of football and coaches for example, with Yuri Semin, and Stanislav Cherchesov.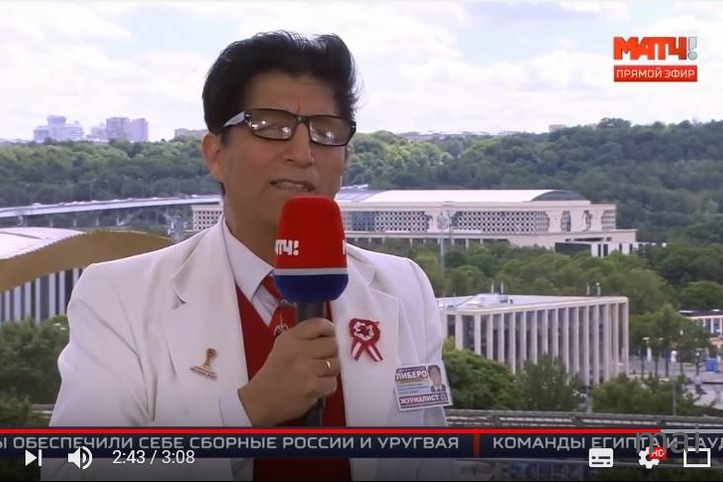 Acquaintance with Stanislav Cherchesov: how did it happen?
Shortly before the FIFA World Cup Russia 2018, many journalists criticized our team and its Head Coach Stanislav Cherchesov. However, I believed that the Russian National Team would open up and show a decent game. I did not hide my opinion, actively spoke at press conferences, so Stanislav Salamovich noticed me, and saw that there is only one person who believes in him and the team. he came up to me to get acquainted, and since then we have good friendly relations.
Now all people joke that Stanislav is space (awesome, like in the song of Russian group "Leningrad"). In fact, it he is full of positive energy, which passed to the players of the national team. It turned out that we were right about the fate of the Russian team at the World Cup, believing in it. After Russia's victory over Spain, Cherchesov gave me a T-shirt of the Russian National Team with number 1 and the name of Lorenzo de Chosika, with signatures of all the players of the team and its coach. It was a pleasant surprise for me and caused a great resonance all over the world. We communicate with him now. I am especially grateful to Stanislav Salamovich for finding the time and giving me a great interview on the eve of the match with Croatia, which was published in many Latin American media.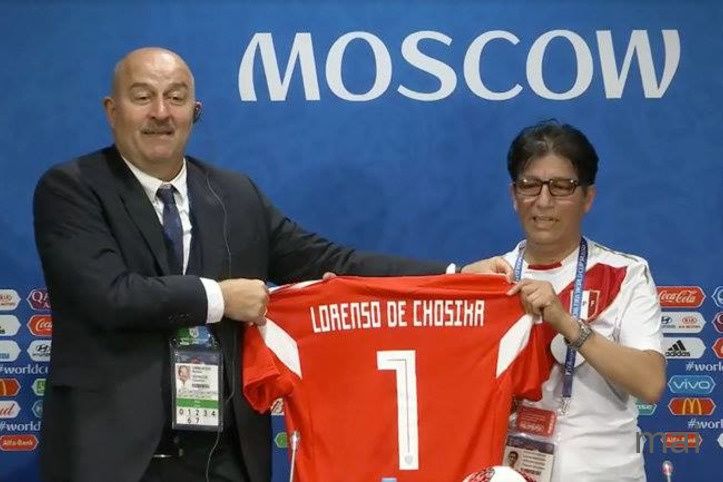 Lorenzo, what advice can you give to international students who come to study in Russia?
I think that you should always be literally hungry for knowledge, as well as self-disciplined, you should develop efficiency and be diligent to achieve your goals. It is necessary to be able to properly organize your time and to combine lots of many things. In addition, of course, to remain positive and modest, even despite the achievements.
After the conversation, Lorenzo de Chosica slowly went to the taxi, which was supposed to take him to the TV Studio of sports channel "Match TV".
Or you can contact us by
+7 (925) 579-7589
phone number using Telegram or WhatsApp application service