Start of the second stage of internship for international students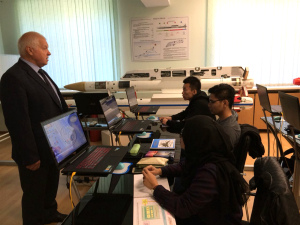 On September 17, 2018 began the second stage of internship for international students of MAI at the "Vympel" State Engineering Design Bureau JSC named after I.I. Toropov (Moscow).
The idea of the organization of internship for international students has come from the International Department of MAI. In January 2018, it was made possible to conclude an agreement on cooperation in the field of practical education with JSC "Vympel".
From June 13 to August 9, forty-nine second and third -year students of MAI from 20 countries undertook an internship, and the first stage of practice was over. Now it is time for forth-year students to have practical skills.
Thirty-one international students, who study at the Faculty No. 1 "Aircraft Engineering", Institute No. 2 "Aviation, Rocket Engines and Power Installations", Institute No. 3 "Control Systems, Informatics and Power Engineering" and Institute No. 6 «Aerospace Engineering», will do the practical training at JSC "Vympel" for two weeks. They came from different countries of the world: Uganda, Malaysia, Latvia, Egypt, Kazakhstan, China, Nigeria, Vietnam, etc.
Within two weeks groups of students will visit the JSC "Vympel" and have lectures and seminars, delivered by PhD professors, high-class engineers and designers of Aerospace engineering. At the end of the internship each student will receive a Certificate of practice.
For the first time in the history of MAI, international students had an internship in Russian industrial company. In October 2018 such practice will be held for students who study on English-language programs of MAI.
Or you can contact us by
+7 (925) 579-7589
phone number using Telegram or WhatsApp application service