Made in MAI: Top 6 Projects of Year 2017
In 2017 Moscow Aviation Institute has revealed significant progress in research works, being developed in the university. The total scope of scientific and engineering activities increased by 1.5 times. In the outgoing year, the university successfully completed contracts for more than 2 billion rubles, showing one of the best results in increasing amounts of revenue among the universities located in Moscow.
We proudly introduce the top six research and educational projects.
1. New Satellite Launched
The Iskra-MAI-85 satellite with the weight of 4 kilograms designed and assembled in the MAI test center was successfully put into orbit on July 14, 2017, by the Soyuz-2.1a launch vehicle as part of the Canopus-V-IC spacecraft. The orbiter is completely made of Russian components.

The Iskra-MAI-85 satellite was developed by students and science fellows of MAI Faculty of Aerospace Engineering. The chief designer of the device was Alexander Chernyshev. The project was realized jointly with MAI industry-based partner All-Russian Scientific Research Institute Of Electromechanics (VNIIEM). The project team developed a monitoring module for thermal state of electronic components which are used in the magnetic drive unit of attitude control system.
2. Plasma Energy for Space Travel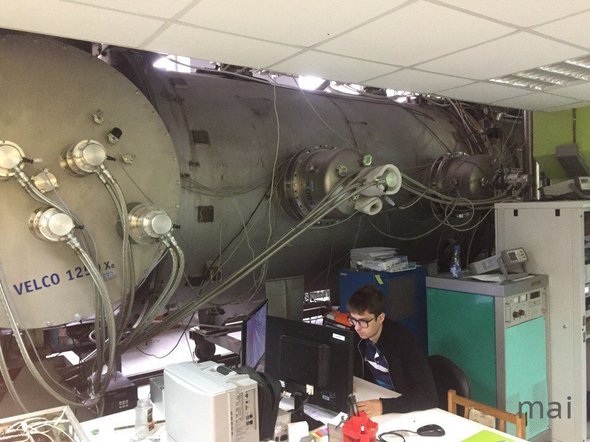 Moscow Aviation Institute investigates and designs various types of thrusters for space vehicles.
The research works are focused on three type of thrusters:
Hall-effect thruster
High-frequency ion thruster
Pulsed plasma thruster
Such drives can perform various tasks like orbital maneuver of spacecraft, orbit insertions for getting geostationary orbit, long-distance space flights. The ion thrusters are well suited for spacecraft with a significant mass, including ones that have more than 1-ton mass.
Research is being conducted in MAI
Ion Propulsion Center
–
the Institute of Applied Mechanics and Electrodynamics
which is the principal institution in Russia working on the theme. Scientists of the Center are also developing pilot and experimental samples of ion thrusters.
Fr om 2010 MAI Ion Propulsion Center has investigates and develops High-frequency ion thrusters, which are distinguished by a large active resource compared to other types of drives.
The latest projects of Propulsion Center – the Institute of Applied Mechanics and Electrodynamics were presented at the
International Aviation and Space Salon
MAKS-2017 and aroused great interest among the guests.
3. New Composite Material for Spacecraft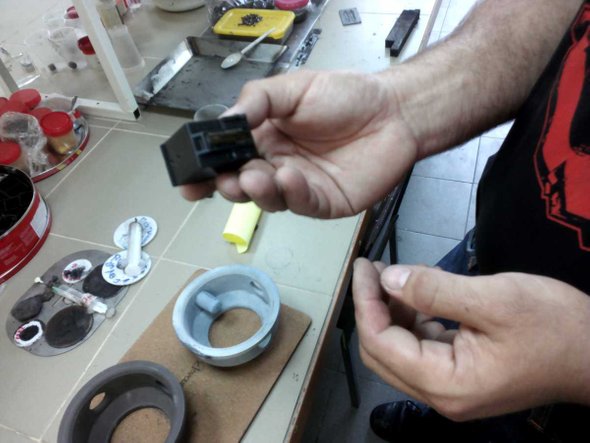 A group of science fellows from Faculty of General Engineering revealed a new method for creating new material – composite ceramics based on silicon nitride. This material has high strength, hardness, chemical resistance and resistance to thermal shock. At the same time, it has it weighs several times less than metallic structures with keeping the same resistance to environmental impact.

At Moscow Aviation Institute the new material is planned to use in new models of ion thrusters and aircraft engines.

Generally, the composite can be used for manufacturing various parts and assemblies in engineering, aerospace engineering, and the chemical industry.
Also, MAI engineers work on the prospective 3D printer which could work with that new kind of composite material.

4. The Best Innovative Project - 2017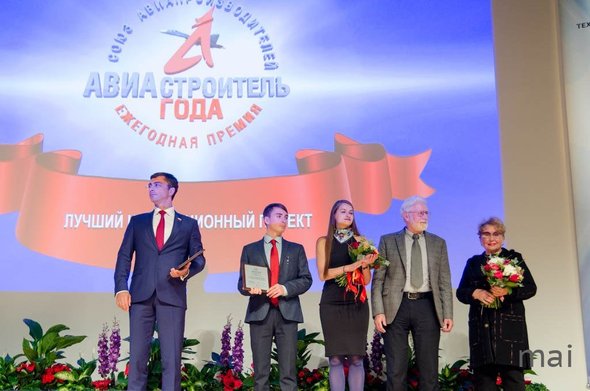 The joint project of two MAI academic departments - 208 and 908 - was highly rewarded at "Aircraft builder of the year" Contest -2017 as the best innovative project.
A group of scientists consisting of Konstantin Pushkin, Nadezhda Okorokova, Stanislav Sevruk and Ariadna Farmakovskaya introduced a prospective electric power source for unmanned aerial vehicles (UAV) and electric cars. It is environmentally friendly and can easily replace a combustible and explosive lithium-ion battery. Also, it is several times cheaper at a cost than the lithium-ion battery and has a larger capacity.

The research group is developing a device for instant recharging these new power sources, which could operate at low temperature – up to minus 30°С.

5. MaiDroneSchool educational center and MaiDroneTeam for competitions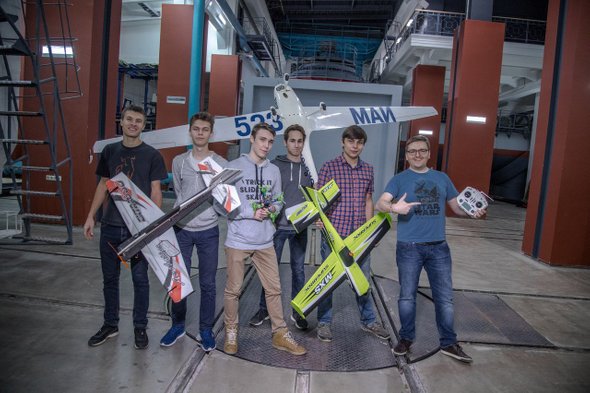 Both projects have started in 2007 as ones of more prospective areas for studying in the university. MAI science fellow Kirill Shukin organized MaiDroneSchool to participate in a tender by the national Aeronet association for selecting the educational center wh ere the UAV operators would be trained.
The students of Moscow Aviation Institute are the widely recognized drone racers and members of
MaiDroneTeam
repeatedly take awards. So recently,
Aleksandr Kunashuk
, an MAI student has grabbed gold in UAV Piloting at the
WorldSkills-2017
contest.
At MaiDroneSchool students study piloting of racing drones, photo and video drones, and other related disciplines. The best trainers from the best high-tech university foster best practical pilots.
6. 3D School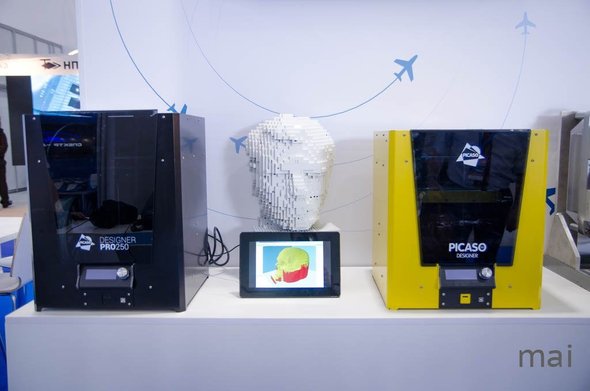 Additive manufacturing is one of the most promising areas in the high-tech industry. According to experts, soon the parts manufactured in this way will be widely used in aerospace engineering. Today, many companies are implementing this technology.
Moscow Aviation Institute has organized a new school, offering educational courses on various technologies and approaches for 3D manufacturing. At present, there are two levels available – basic and advanced. Soon the pro-level will be introduced.
Or you can contact us by
+7 (925) 579-7589
phone number using Telegram or WhatsApp application service